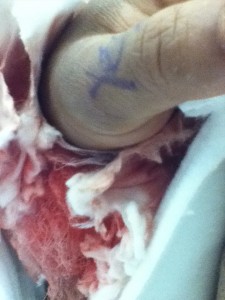 My hand in the cast after the cast has been cut open the day after surgery for observation. Yes, the surgeons wrote "Yes" on my left thumb to ensure that they operated on the correct hand. Holy shit Gina.
The day after I wrote the most recent post I got into a car accident where I broke both of the bones in my left arm at the wrist.
A fucking doozy, no?
I am still working on the projects that I outlined, in fact some have grown others have shrunk, but perhaps most importantly I want to share what I have learned.
First it is incredibly difficult to get dressed with one hand. All of your clothes have to be stretchy. Getting dressed takes incredibly long.
Second, doctors do not like to prescribe narcotic pain killers, I assume largely because they are regulated by the DEA.
Third the people who showed up to the hospital meant a lot to me. I ended up having to have surgery on my wrist, that shit was the devil. So I stayed in the hospital for a few days for observation purposes. They wanted to make sure the swelling went down and that there wasn't any nerve damage. I didn't want to eat. I just wanted iced coffee, smoothies and news papers. Thank you to everyone who showed up and brought those items. In some ways the world bifurcated into the people who showed up and those who didn't. I resisted thinking along those lines, largely because of the lost that it represents. Honestly I am grateful for the fact that anyone showed up. Some people go to the hospital and they don't have anyone who gives a flying fuck about them. #boom.
Which brings me to the pain of having my bones reset by hand by Dr. Akimbo. Fourth, the most painful part of this ordeal, other than experiencing the break was having my hand reset. He was obligated to try and reset it before actually operating on me. I was conscious, he stuck a four inch needle filled with lidocaine in my arm, hung my hand up by my thumb and proceeded to squeeze my arm to move bones around. The. Most. Painful. Full stop.
Fifth, when you only have one hand, you have to be very creative about how you solve problems. You want to crack pepper? Figure it out. You want to open a lemonade jar, figure it out. Your one hand is full and you need to open the front door, figure it out.
Six, fucked up things happen when people don't yield. Fundamentally, I believe and I have had a lot of time to sit and think about this, I believe that being unwilling to yield is rooted in a persons ego. Why else wouldn't a person stop if it is not their turn to go? They have to have in their head that it is not someone elses turn but their own turn. This flies in the face of one of the fundamental kindergarten lessons that we learn; sharing.
Seven, I didn't realize until two weeks ago that I am (temporarily) disabled.
Eight, sometimes God sits you down. I had all these summer plans gina, and they just had to be put on hold. There is some shit that you cannot do with one arm. o.O
With that being said, I Love all of y'all and thank you for reading. I am glad to be alive.
Share on Facebook
Tags: Healing